Glamping Business Plan Services
Hands-on support from industry veterans with a proven track record
Trust us! We know glamping
Feasibility studies delivered.
UK & Ireland Councils Assessed.
Successful businesses normally start with a detailed plan – capable of charting your growth, guiding your day-to-day activities and securing investment from financers. But creating a business plan takes time and effort.
Writing a successful business plan for a glamping venture also requires in-depth knowledge of the glamping industry, a good head for numbers and a knack for writing incisive summaries. To help you make headway, we can write your business plan for you, or supply a detailed template that'll guide you through the process.
The Safe Way To Start Your Venture
A good business plan will help you:
Profile your competition.
Understand your financial needs.
Uncover potential pitfalls.
Create an effective growth strategy.
Glamping isn't a new phenomenon, but its popularity has skyrocketed in recent years. Industry reports show that the global glamping industry is set to reach £4.1 billion by 2028, expanding at a CAGR of 14.1%, and the ROI from glamping sites regularly outstrips the returns from more conventional investment.
In simple terms, there's never been a better time to start your glamping adventure. But that doesn't mean that you should rush out and start buying pods, land or a website just yet. Successful businesses – glamping or otherwise – tend to be supported by in-depth market research and guided by accurate growth forecasts.
To prevent unnecessary roadblocks and maximise your chances of winning investment from 3rd party financers, you'll want to make sure that you know exactly how to position your business, how you'll develop your site and what you'll need to spend on marketing your new venture.
You'll also want to make sure you've documented your revenue model, know exactly how much capital you'll need to sustain your business in the early stages of your journey and that you're positioning your new brand correctly.
That's why your first step – post feasibility study – should always be to write up a detailed business plan that provides a detailed overview of your local market, and charts the growth of your glamping site(s).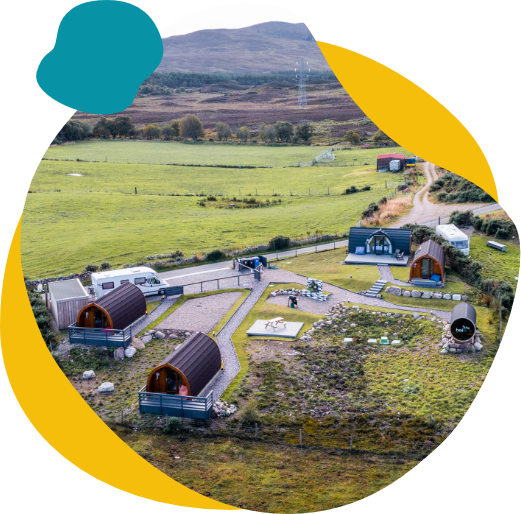 The Support You Need To Flourish
Writing a detailed and informative business plan isn't easy. In fact, it's probably one of the hardest things you'll ever have to do.
Everything from the language you use, the structure of your document and the quality of your underlying research have to be just so, or you risk producing a plan that guides you in the wrong direction – or deters potential investors.
To help you get things just right, we can provide you with a detailed business plan template or write your business plan for you; drawing on years of industry experience to create a bespoke document that'll help you make a success of your dream. Our glamping business plans provide:
Get to grips with your local competitors
Spot opportunities to differentiate your business.
Learn how to position and market your site.
You can't plan a business until you know what you're up against. Diving straight into the nitty-gritty, our
turnkey business planning service
starts with exhaustive market research that sees us profile your competitors, analyse their business models and the way they've positioned themselves. We'll look at things like their nightly rental rates, the way they've laid out their sites, the type of accommodation they're offering and what they're doing to set themselves apart from the competition, then we'll provide recommendations on how to exploit this intelligence for your own benefit.
Advanced Revenue
Modelling
Profile your revenue streams and outgoings.
Fix your nightly rental rates.
Determine your financial needs.
Learning how to manage your revenue streams is key to running a successful business. When you engage us to help you write a glamping business plan, we'll take time to sit down and understand your business; modelling revenue generation and costs to help you pick a revenue model that supports your growth.
We'll also help you understand how much cash you'll need to get your business off the ground, and how quickly you'll be able to repay any loans so that you can seek financing for your new venture.
Work out whether your business will provide a good ROI.
See how fast your revenue will grow.
Avoid potential roadblocks.
Forecasting growth may seem like an impossible task, but our in-house planning experts are well-versed at using industry research, competitor research and advanced modelling tools to ballpark the growth potential of your glamping business.
This process is useful if you're looking to secure investment, but it's also a great way to spot potential roadblocks and tweak your plans to provide a better forecast. Say you're planning a small, four pod site in an unused field and our forecasting shows that it'd be significantly more profitable to install five yurts with firepits and a shower block. That's intelligence that can really make a difference to your bottom line.
Define clear goals.
Provide a detailed growth plan.
Leave space for reactive changes.
Above all, your business plan needs to plot a clear course for success. You'll need to know what steps to take next; how to organise your day-to-day activities to realise your vision and where to invest hard-earned capital so that it makes a real difference to the future of your glamping venture.
Our business plans always provide a clear roadmap for growth, with larger milestones that won't move and a bevy of smaller goals that can be rearranged as and when your business priorities change and/or external factors interfere with your plans.
Want To Write Your Own Business Plan?
We get it: Starting a glamping business can be expensive and while we think that it's always worth paying for a good plan, we understand that some people simply cannot afford the outlay. If you're looking to save money, we can
supply you with a helpful template
, or a short checklist that'll make sure you don't miss important elements. Get in touch with a member of our planning team or just download your free checklist here.
Building A Strong Foundation
A goal without a plan is just a wish. Research shows that taking the time to write a business plan helps you organise your ideas, clarify your objectives and supercharge your growth – by up to 30% in some instances.
So if you're still on the fence about writing a business plan, trust us when we say it's well worth the time and money. You'll come out of the exercise with a clear picture of what you need to do to move your business forwards, as well as some of the fine detail needed to get your dream business off the ground.
Working side-by-side with glamping entrepreneurs from all over the country, our planning team have helped people work out what kind of pods they'll need to buy, what mod cons they'll need to invest in and what sort of monthly revenue they can expect from their business.
We've also highlighted opportunities to improve revenue and cash flow by investing in book systems, focusing marketing efforts on high-value social media platforms or investing in amenities that drastically alter the value proposition of a glamping site.
Hear From Previous Academy Attendees
Thanks for sharing your expertise around setting up a Glamping site. I found the sessions very informative and gave me lots of thinks to think about and look into. Very friendly team who are very helpful and happy to share their experiences good and bad
Good to know I am not alone. The session was very informative and enjoyable. Can't wait for the next session.
Firstly, thank you for the invitation and part one of the course. Very interesting and raised a number of things to consider which I had previously not thought of. I am looking forward to continuing to learn.
Keen To Bring Some Clarity To Your Own Plans?
Get in touch with a member of the Glampitect team using the form below, and we can start the business planning process with you.