Buying Land For A Glamping Site?
We'll help you pick the right plot – and avoid potential money pits
Trust us! We know glamping
Feasibility studies delivered.
UK & Ireland Councils Assessed.
Choosing the perfect plot isn't easy. You've got to weigh up everything from aesthetic appeal to accessibility, affordability and proximity to essential utilities. You've also got to think about the likelihood of successfully obtaining planning permission for your new glamping business – and the number of acres needed to support your dream site.
Drawing on the expert knowledge of our planning, research and design teams, our land buying service is designed to bring clarity to this increasingly complex process. We'll teach you what to look for, help you analyse potential plots and even put in offers or bids on your behalf.
Starting Out On The Right Foot
The expert support needed to pick land that:
Facilitates your vision.
Provides the desired ROI.
Won't bog you down in avoidable problems.
This is how it all starts: the adventure of a lifetime. Once you've picked out some land and made an offer, you'll be able to start mapping your site, working on your planning application and choosing your glamping units. But buying land isn't something you should rush.
In fact, it's arguably the single most important part of the planning process. Your site's potential is intrinsically linked to the quality of the land it sits on, so you'll want to spend time getting it right.
Ideally, you want a plot that's scenic, relatively isolated and spacious enough to give your guests that "lost in nature" vibe. But you also need to pick out a site that's close to roads and footpaths, sewage infrastructure, water and electricity.
To ensure that you can actually move ahead with your project, you'll also want to pick a site that's likely to get planning permission, which means evaluating local planning guidelines, looking at the success rate of similar developments and trying to build a rough picture of your site's feasibility before you make an offer or commit to leasing land for an extended period of time.
It's all a bit overwhelming, but you don't have to go it alone. Experienced glamping experts with firsthand experience of the land-buying process, we're ideally placed to help you evaluate different plots and find the perfect home for your new endeavour.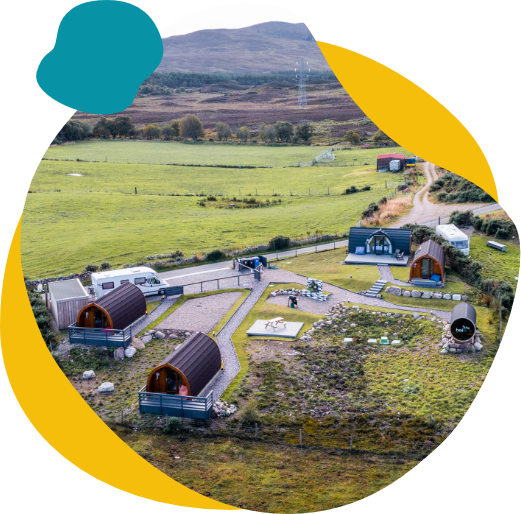 Land Buying Support That's Tailored To Your Plans
There's no such thing as a universally "good" plot: It all depends on the scope of your vision, and the type of site you want to run. Someone who wants to run a small, four-pod site in the middle of a forest will have very different needs to someone that wants to run a 'back to nature' style retreat with two dozen huts, a lake for boating, hot tubs, fire pits and space for a nature trail.
That said, there are some things that all good glamping sites have in common: things like access to essential amenities, a pleasant aspect, and shelter from busy roads. When you sign up for our land buying service, we'll help you draw up a shortlist of potential sites using a specification that's bespoke to your vision – and sympathetic to the needs of a successful glamping site.
Shortlist in hand, we'll then help you pick out the perfect plot by evaluating the following criteria:
Learn how to evaluate the aesthetic appeal of a given site.
Identify unique features that'll improve your site's marketability.
Avoid investing in a plot that doesn't have the necessary appeal.
Glamping is all about escaping from the bustle of everyday life and immersing yourself in nature. Serene backdrops full of leafy, green boughs, rolling hills or hazy mountains are key to establishing that vibe and while it's true that you can landscape a relatively humdrum plot, it's generally best to pick one that's already situated in attractive scenery.
We'll help you identify plots that fit the bill, and point out any features that'll give your campsite that extra 'wow' factor. We'll also help you brainstorm different ways to maximise the appeal of a given site and give you honest feedback on any areas of concern before you part with your hard-earned money.
Locate sites that are in tourism hotspots or areas of high demand.
Make sure your potential plot is easy to reach.
Avoid disappointed customers and negative reviews.
Your customers may want to feel isolated, but glamping is all about luxury and nobody wants to trek hours off the beaten path just to find their accommodation. When evaluating a potential site, it's important to look at accessibility: How far is it from the nearest main road? Could people get to you if they wanted to travel by train or will it be prohibitively expensive to take a taxi from the nearest station?
It's also important to make sure that your visitors can access plenty of the surrounding countryside. Our design and planning experts are well-placed to advise here: using maps and land registry data to ensure you're well aware of any potential access issues.
Learn whether potential plots have access to amenities.
Work out how much it'll cost to get power, water and WiFi to your huts.
Make sure you don't invest in a site with no potential.
Amenities are key to the glamping experience. Customers come to sites expecting hot showers; flushing toilets and working plug sockets for their favourite gadgets. Increasingly, modern-day glampers are also coming to expect working WiFi connections, TVs and Netflix subscriptions.
A site that's miles away from potential amenities? Well, let's just say that getting you glamping-ready could be an uphill battle that depletes your construction budget and forces you to compromise on other aspects of your build. That's why we always analyse access to essential utilities when picking out a plot for your business.
Make sure you're buying land with good potential.
Understand any possible pitfalls.
Sidestep land that's likely to mire you in unsuccessful appeals.
If a glamping project stalls, it's normally because the site owners are struggling to get planning permission from their local authority. This is probably one of the most precarious parts of the setup process but you can avoid costly delays by buying land that's more likely to get the green light.
When you commission us to find the perfect plot, our in-house experts will make sure that any potential plots stand a good chance of getting planning permission from the relevant authorities; engaging with local guidelines and looking at surrounding land use to ensure that you're not buying a site that'll be impossible to build on.
Want To Know More About Our Land Buying Process?
In helping hundreds of glamping site owners to find the perfect plot, we've built a robust process that helps us hone in on viable land in record time. If you're not sure whether our land buying process is for you – or you'd like to try finding some land on your own – you can download our land buying guide.
Featuring 19 pages of hard-won insight, this handy little document will introduce you to the fundamental principles of land buying, give you some essential "need to knows" and provide you with a proper overview of the process we use to find promising land.
The Safest Way To Buy Land For Your Glamping Site
There's some truth to the idea that glamping sites don't need to be located in prime tourism spots: Guests are coming to enjoy a luxury getaway with all the mod cons, and amenities like fire pits, hot tubs and high-end glamping units will be the main focus of your site.
That said, people still come to glamping with certain expectations. They want to be surrounded by nature, and treated to views that are a world away from their everyday lives. The best glamping sites are situated in scenery that makes it easy to provide this experience, and there's often a clear correlation between the quality of a plot and the ROI your glamping site will generate.
To ensure that you avoid the costly mistake of investing in a site that cannot deliver the required experience, we recommend that every prospective land owner engage with our land buying service. This is a truly end-to-end offering that's tailored to your needs. We'll help you identify the perfect plot, put in a bid and navigate the buying process. After that, we can also help you to design and plan your glamping development, select the perfect type of units for your site and pull together your planning application from start to finish.
Hear From Previous Academy Attendees
Thanks for sharing your expertise around setting up a Glamping site. I found the sessions very informative and gave me lots of thinks to think about and look into. Very friendly team who are very helpful and happy to share their experiences good and bad
Good to know I am not alone. The session was very informative and enjoyable. Can't wait for the next session.
Firstly, thank you for the invitation and part one of the course. Very interesting and raised a number of things to consider which I had previously not thought of. I am looking forward to continuing to learn.
Ready To Find Your Dream Plot?
Just fill out the form below and a member of the Glampitect team will be in touch.