Get Help With Your Planning Application
The support you need to get full planning permission for your dream glamping site.
Trust us! We know glamping
Feasibility studies delivered.
UK & Ireland Councils Assessed.
Perfect for entrepreneurs that are happy to do some of the legwork, our Full Planning Light service provides you with the bulk of the documents needed to make a successful application.
You'll get the technical drawings, market research and detailed plans needed to make a successful application – plus hands-on support and advice from industry leading experts, but you may need to prepare some of the supporting evidence yourself. If this sounds like something you're happy to take on, keep reading to find out more.
Get Full Planning Permission At A Reduced Cost
To get the green light for a new glamping site, you will typically need:
A professional location plan.
Detailed drawings, depicting the layout of your new site.
Drainage and access diagrams.
Market research.
If you're setting up a brand-new glamping site, there's a very good chance that you'll need planning permission from your local authority. Exceptions do exist: Owner-operators running traditional, tent campsites for less than 28 days of the year may get a free pass under permitted development rights (sometimes called the 28 day rule).
But if you're looking to run a site with permanent structures like glamping pods, plumbed shepherd huts or yurts, you will need to get full planning permission for your new site. You'll also need full planning permission if you intend to run your site for more than 28 days a year, which is the best way to ensure a good return on your initial investment.
So it's probably fair to say that 99% of site owners will need to obtain full planning permission from their local authority before they can break ground. Unfortunately, the planning application process can be convoluted. There are plans to draw up; access statements to prepare and market research to compile – not to mention all the supporting documentation you'll need to provide.
The simplest – and most straightforward – way to get planning permission is to pay specialists like Glampitect to handle the process for you. But we know that a lot of prospective site owners are keen to cut costs and conserve their budget, which is why we're now offering a Full Planning Light service for a reduced fee.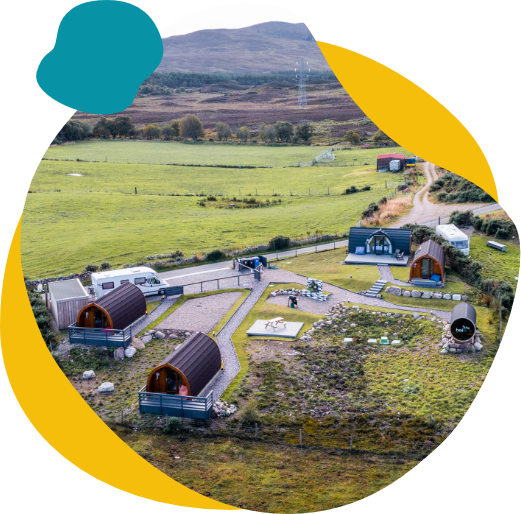 Professional Plans & Drawings For Your New Glamping Site
Our expert planning consultants will draw up the detailed location, access, road and drainage plans needed to support a successful application – plus the market research and statements required by most planning authorities.
You'll still need to supply the supporting evidence, compile your application pack and work with your local planning officers but you'll have all of the technical documents needed to get that vaunted green light – and you'll have saved money too. Our Full Planning Light service provides:
Location Plans
& Site Drawings
Location plan, highlighting land that you own.
Detailed site layout drawing(s).
Essential components of a successful application.
Irrespective of whether you're planning a small site with five pods or an extensive development with 20+ yurts, your planning application will need to include a detailed site plan showing the location of any permanent structures, roads, parking spaces and proposed new planting. Depending on the scale of your site, you may need multiple drawings at different scales
A successful planning application will also include an accurate location plan, with the land you own marked with a red boundary. As part of our Full Planning Light service, our in-house planning specialists will produce both of these documents on your behalf – ready for inclusion in your application package.
Detailed plans of any additional drainage for your site.
Plans showing how people will access your property.
Must be accurate and thorough to pass muster.
Alongside your site layout drawings and location plans, you'll need to provide detailed plans for any additional drainage that will be added to support showers, toilets and other facilities. Your local planning authority will also want to see detailed access plans to demonstrate that access to your site will be safe for all users, and give some measure of the impact on local infrastructure.
These documents need to be precise and thorough: Your local planning authority will pass them on to expert consultants employed by relevant environmental bodies, your local water authority or your local roads department and any mistakes will quickly throw a wrench in the works.
Design & Access
Statements
An overview of the build process.
Proof that you've considered the impact of your site.
A technical document that must accompany every application.
Design and access statements are technical documents that need to comply with all relevant planning legislation. Among other things, they need to detail the build process from start to finish, so that your local planning authority can assess the impact of construction.
Your statement will also need to explain why you think your planned glamping site is a good fit for its proposed location, how it'll impact the surrounding environment and whether it'll put strain on local roads and other infrastructure so it's important to get help from a professional while putting yours together.
Proof that there's demand for your site.
Evidence of any proposed benefits to local communities.
Often the key to getting your application passed.
Market research demonstrates that there's a real need for your site – and proves that it'll generate revenue for you and local communities. It's not an essential part of your planning application, but it is often the key to getting an application over the finish line.
Working closely with yourselves, our planning team will put together a detailed market research report drawing on national and local statistics to demonstrate that your glamping site stands a good chance of bolstering the local economy.
Looking For A More All-Inclusive Service?
If you'd rather have us supply all of the supporting evidence and additional documentation needed to create a fully-fledged planning application, take a look at our full planning permission service.
This service does cost more, but it takes the hassle and hard work out of assembling a successful application pack – allowing you to focus 100% of your attention on setting up your new venture.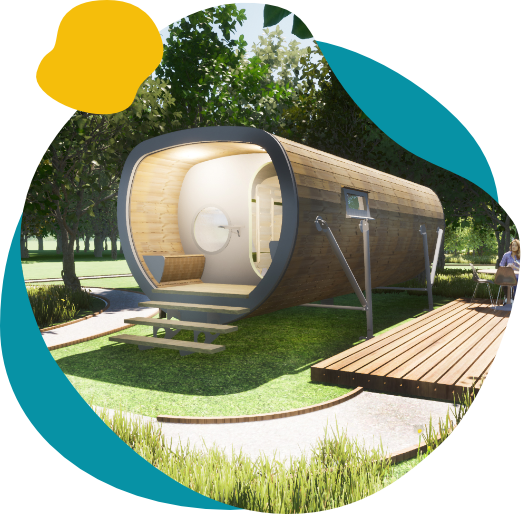 Paving The Way To Success
Once we've supplied you with the technical plans and drawings needed for the application process, it'll be up to you to finish assembling your pack. Getting a planning application passed is no mean feat and you'll want to add as much supporting evidence as you possibly can to your initial application.
This includes things like specifications of the pods you'll be using, statements from locals who support the site, business plans and other documents that'll show your local planning authority that you have dotted every i and crossed every t.
But you don't have to go it alone. Our planning specialists are always on-hand to offer ad-hoc consultancy, and we'll do everything we can to make sure your application is successful.
Post handover, many Full Planning Light customers decide to employ our team on an hourly basis so that they can continue providing insights and advice. You'll also find plenty of helpful resources on our website so if you're happy to put the work in, you should be well on your way to success.
Hear From Our Other Clients
I have reviewed the documents over the weekend and am pleased to say am delighted with their contents. I think we have ticked all of the boxes, thank you.
If you'd like to use our Full Planning Light service, get in touch today. One of our planning experts will be happy to talk you through the process and we may even be able to make an immediate start on the documents needed for your planning application.