Get Planning Permission For Your Glamping Site
Make sure you're ticking the right boxes with our full planning support service.
Trust us! We know glamping
Feasibility studies delivered.
UK & Ireland Councils Assessed.
Before you can launch a successful glamping business, you'll need to get full planning permission from your local council. Our planning support service is designed to help you navigate this process successfully – and turn your glamping dream into a reality.
Drawing on decades of combined experience, we'll help you prepare the plans, statements and supporting evidence needed to file a successful application and in the unlikely event that your application is unsuccessful, we'll also be on-hand to help you file a successful appeal.
Obtaining Full Planning Permission Can Be Challenging
To get the greenlight for your project, you'll need:
A full set of drawings, depicting your proposed site in detail
Design & access statements
Market research documents demonstrating demand for your site
Any additional supporting evidence required by your local authority
Setting up a glamping site is an increasingly popular way of realising value from land that's unsuitable for more traditional forms of development. The potential ROI from glamping businesses is incredible and industry studies show that demand for luxury staycations will keep growing for years to come.
But you can't just buy a plot of land and start building accommodation. Even if you've already got permission to run a tent campsite under the so-called '28 day' rules, you'll need to get change of use permission before you can build permanent structures like glamping pods, shepherd huts or yurts.
You'll also need planning permission for any ancillary buildings designed to support your luxury glamping site – including any shower and toilet blocks.
The good news is that local planning authorities are often sympathetic to proposals that could bring more tourism to rural areas. But that's by no means a guarantee that you'll obtain planning permission.
It's also important to remember that even successful planning applications take a long time to work their way through your local council's planning office. Months or even years in some cases, although there are ways to speed up the process and significantly increase your chances of success.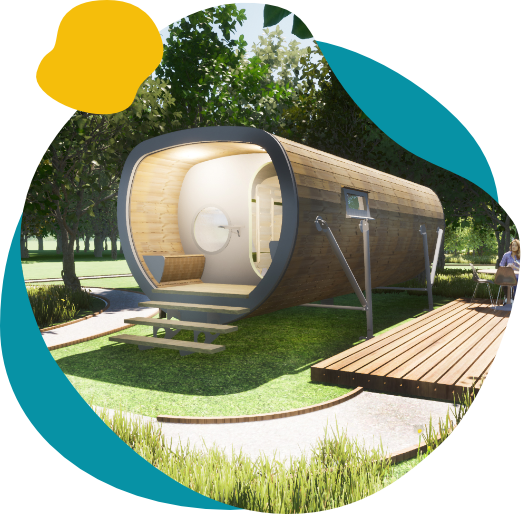 Creating A Body Of Evidence
We're intimately familiar with the complexities of the planning process. Our founders had to navigate it when setting up their own glamping business in 2018, and our team of resident planning experts live and breathe land use regulations.
If you're looking to start your own glamping business and you're worried about the work involved in achieving that vaunted green light, get in touch today.
We're on hand to help you gather a list of the required documents, draw up plans and gather the supporting evidence needed to make a successful application.
Location plans.
Site plans and drawings.
Road and drainage design drawings.
Before your local council can grant planning permission for your glamping business, they'll need to see detailed plans of your proposed development. This includes a site plan, showing the layout of your glamping pods, structures and any trees you'll be planting, as well as more technical plans showing your drainage plans, road or access drawings and elevation plans so that the council can assess the impact of your proposal.
When you send these plans to your local council, they'll send them on to 3rd party organisations like SEPA, your local water authority and your council's road planning department so it's important to make sure that they contain all the relevant information.
Design & Access
Statements
Justify your proposal.
Explain the build process.
Assess your site's impact.
Alongside your plans and drawings, you'll also need to provide a detailed design and access statement. This document will need to show that you've thought about the impact your site will have on the local environment, nearby communities and neighbours.
It'll also need to explain why you think your proposal is a suitable response to the site and its setting, how people will access the site and how your build will impact local infrastructure – as well as explaining the build process in detail so that your local planning authority can see what's involved in getting the site up and running.
Prove that there's demand for your site.
Show that your site will generate tourism.
Make the benefits clear to your local council.
Councils like to see proposals that stand a good chance of increasing tourism in rural areas. To make sure you're sign-posting the potential benefits of your new glamping site, you'll probably want to include some market research in your planning proposal.
This market research would draw on national and local statistics to demonstrate that demand for glamping holidays is growing year on year. You'll also want to pull in some figures demonstrating the increased footfall and revenue generated by tourists visiting glamping sites to make a solid case for your new site.
Information about your pods & facilities.
Impact statements from the local community.
Proof that you've considered every angle.
Getting a planning application passed is no mean feat. Generally speaking, the more detailed an application is the more likely you are to get the permissions you need which is why we recommend that you add as much supporting evidence as you possibly can to your initial application.
This includes specifications of the pods you'll be using – and the leisure facilities you'll be building to support your site, as well as statements from locals who support the site, business plans and other documents that'll show your local planning authority that you have dotted every i and crossed every t.
If you're trying to get planning permission for a brand-new glamping site but you're worried that you don't have the budget for our full planning permission service, why not take a look at our?
You'll have to do more of the leg-work, but we'll still provide support and advice that'll move you closer to completion.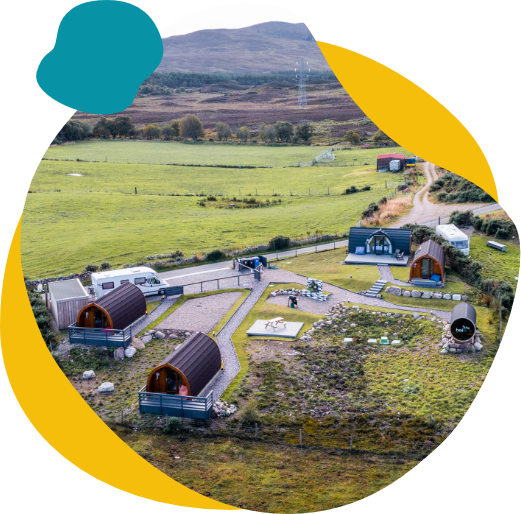 A Service Tailored To Your Needs
Our full planning permission service is designed to take the stress and hard work out of assembling your planning application. We'll still need your input for parts of the process, but we do everything we can to handle the heavy lifting so that you can focus on setting up your new business.
This includes bringing you lists of documents, assembling statements or bringing in outside consultants to double-check your plans. We'll also brainstorm ideas to maximise your chances of success and provide a truly tailored, end-to-end service that considers the peculiarities of your application.
Hear From Previous Academy Attendees
Thanks for sharing your expertise around setting up a Glamping site. I found the sessions very informative and gave me lots of thinks to think about and look into. Very friendly team who are very helpful and happy to share their experiences good and bad
Good to know I am not alone. The session was very informative and enjoyable. Can't wait for the next session.
Firstly, thank you for the invitation and part one of the course. Very interesting and raised a number of things to consider which I had previously not thought of. I am looking forward to continuing to learn.
If you'd like to get the ball rolling and move your project forward, get in touch today. One of our planning experts will be happy to talk you through the process and we may even be able to make an immediate start on your planning application.